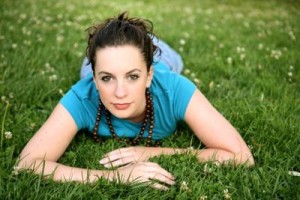 Hello friends!! Well, its been sometime but the bar is officially back up and running!  Today I'm super excited to be hanging out with Brina Courtney, author of the YA novel, Reveal. Why am I super excited, you ask? Not only is Brina a talented writer and friend but my knowledge of Brina goes way beyond the Twitteverse. It just so happens that I graduated high school with her sister AND I can remember playing over at their house when we were little. 🙂 I'm so lucky. So, grab a nice hot cup of hot chocolate topped with whipped cream and join us as we catch up.
KD:  I'm cruising the ebook aisles and I come across your book. In four sentences or less tell me why I should pick up this book. (Offering me money, fame or a tall, dark and handsome stranger will not sway my judgement but would be a wonderful side benefit.) 😉
BC: This is a story based on something or someone you've never even heard of. Read it to find out why a girl with a missing father can communicate with ghosts. Learn who set fire to an orphanage, maliciously burning the children inside. Enter the world of cryptids and never go back.
KD: Shay is a senior in High School, a very exciting, confusing and exhilarating time for any girl. What was it about her that you felt compelled to tell her story?
BC: Her father's disappearance was a start. I feel like there's so many kids out there who may not know if they're parents are dead or alive, or if they just left because they didn't love them. Shay's questions are valid feelings that I wanted to explore.
KD: What was the inspiration behind Reveal?
BC: A Bones episode on Chupacabras and cryptozoology. I just got hooked- I wanted to know more. And when there wasn't any more to learn, I created.
KD: Without giving away too much of the story, I'll just say that Shay has to deal with her heritage and all that entails. In doing so, she discusses some heavy duty biology terms, DNA, chromosomes, etc. What sort of research did you do into this? Has it been an interest of yours?
BC: This took me weeks to learn all the info. I seriously barely passed 8th grade biology, I had no idea what I was doing, but I wanted to try. It was never an interest of mine, to be honest. Once I started to do the research I was really into it. I mean we talk about designer dogs, but what about designer babies? These things are not scifi, they're really happening.
KD: What attracted you to the YA genre?
BC: I LOVE reading YA. I can't tell you how many books I've read, it's what made me want to write YA.
KD: Have you written any other YA or other genre stories?
BC: I have a short story out, Ignite, which is the beginning of Shay's story. I also have a WIP, Cassie Claire's Cult Life which is YA about a serial killer in a cult. In 2012 I hope to put out three more books, all YA.
KD:  Think of some of your favorite authors, what one or two qualities do they possess that draws you to read their work?
BC: Descriptions, I wish I could take the time to show you the picture in my head better, but I'm inpatient and I just want to tell you what's going on.
KD: When did you start writing? Was it one of our lovely teachers at our school that ignited your love for the written word? 😉
BC: Haha, I wish I could say it was, but really no. I started writing in fourth grade. I was good at it, but lost the time available to write as much as I wanted to. I started writing professionally just this year.
KD: What do you do in your free time away from the computer?
BC: There's free time?!? No one ever told me that! I coach high school cheering and I eat. Sometimes I sleep. That's all.
KD: If you could have a special power, what would it be and why? Oh! And would you have a special costume you would wear?
BC: Telepathy. I want to know what people are thinking at all times. I'm extremely nosy.  Special outfit? Ummm Coach sunglasses? So people couldn't see me focusing on them.
Thanks for stopping by and if you want to learn more about Brina and her book, Reveal, check out the next stops on her blog tour:
12/22/2011 TBA
You can also find Brina on Twitter, Facebook, Goodreads, and Google+.