Well, friends, what can I say… these past two days have been very interesting for us.
I try to keep a very open mind, I do. I hate being judged or perceived to be a certain way based on past actions, or the way I look, sound, etc. But my entire life I have heard that Northern Ireland is a hotbed of social discord and one should be very careful while visiting. I have to admit, I had my hesitations about stopping there.
However, if a highly recommended and regarded tour was taking me through Northern Ireland then it must be safe, right? And it was, however, there is a reason why we have gut instincts and my gut instinct was to not like this place.
Let me first start by saying that Derry can be a very beautiful town and like most places of social unrest it has given birth to inspiring murals, museums, theaters and other cultural benefits. Which is probably the reason why a small bomb placed in the cultural center our first night there was so surprising to me.
We didn't know what it was, but we heard a large explosion and from the window of our corner room on the sixth floor we could see smoke billow out from an alley way. Eric tried telling me that it was a boiler or something of a non-issue, but I knew it wasn't. I couldn't sleep that night amongst the shouts and bantering back and forth between people outside.
The next morning we rode the elevator down to the lobby with a lovely older couple who were checking out. The woman asked us if we heard the explosion last night. She was the one that informed us what it was.
"Oh, but don't worry, dearie, it was just a squib, nothing to be worried about now."
Oh, just a squib. Psh. That's nothing.
It wasn't until later that Eric explained the a "squib" is a small bomb. Well isn't that nice. Just a squib, then.
When I asked the woman where they were from she replied just outside of Belfast. Well, then, I'm sure she knows all about squibs then.
The purpose of the bomb was not to hurt or destroy anything. In fact, the lovely bombers called it in just in case anyone was in the building at 11pm at night. Look at that, bombers concerned about the welfare of their targets.
Eric started calling it a "nuisance bomb," I started calling it "a reason to find a bed and breakfast for tonight bomb."
In Eric's defense he tried to find a place to say last night, but with spotty internet and it being later in the day (we visited Giant's Causeway earlier in the day) when we decided to call it, finding a place proved difficult. We decided to stay in Derry and heed the travel guide's suggestion of staying in your hotel after dark.
Around 2 am alarm bells went off. Not that I was in a deep sleep but I still had that moment of "am I dreaming?" and "What the hell is that?" I remember looking over, seeing Eric jump out of bed and just looking around the room frantically, as if moving his head back and forth really quickly would help wake him up. Even then I had a quick chuckle at how funny he looked. However, that moment of whimsy lasted but for a second.
Then the shaking started. I can't tell you how hard it was to calm myself down enough to find the 'zero' number on the phone to dial reception. With no answer from reception we decided to go downstairs to see what was happening. A bit dizzy from galloping down five flights of stairs we get waived off by the gentleman behind reception telling us, "Eh, it was just a false alarm. No worries."
Oh, gee, thanks.
I was half tempted to leave then but they have an iron gate that comes down and locks your car in the night so you can't leave and I didn't think our little Focus hatchback could take the gate. So begrudgingly we went back upstairs, by way of the elevator, and fitfully fell asleep.
After a quick breakfast we hit the road for Cabra Castle, a beautiful old castle that has been renovated and turned into a hotel. It feels magical here, safe. We walked some of the grounds and even had a follower for most of our walk.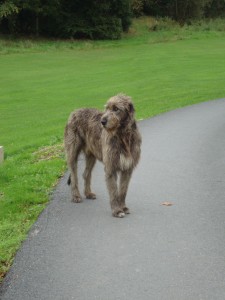 I like it here. North or South it doesn't matter, this castle is magic.
And haunted. 🙂
But now its time for me to get all gussied up for dinner in the castle; will write more about our stay later.
G'day, all!
**Note: You can see some pictures of the megalithic cemetery at Carrowmore and Giant's Causeway by clicking on the link in this sentence.