Back in September I was two months out of the hospital and about to have a very intense surgery on my hand and I thought, "Pfft. I can get back to my life as it was." Oh, if only I knew seven months later I'd still be trying to achieve normalcy.
Anywho, before I got sick I read a Godspeed, a beautifully written steampunk novel by February Grace. Honestly people, she stole my breath within the first few pages. I wanted to know more about her and her book so I did what I always did. I emailed her, gushed over the book and demanded an interview. Ok, not really demanded but nonetheless she answered my questions.
And now… you get to read it, just remember it was done in this past fall.
Bru? Sorry for the delay. I know you can't have a Guinness so I'll have one for you and here's an ice cold Coke for you. 😉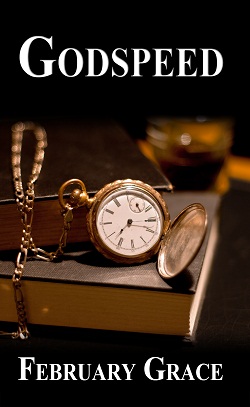 1. Can you give us a quick synopsis of Godspeed?
FG: Godspeed is the story of a courageous young doctor who breaks the law to treat his unique patients, using his own inventions to help them even though in his time this sort of 'experimentation' on humans could cost you your life. The story is told through the eyes of one of those patients, a young woman who comes into his care after she collapses in the street and is discovered there by the doctor's best friend.Of course she is quite taken with him from the start, and the story goes on from there, with her mystified by the secretive nature of his practice and trying to piece together the puzzle of who he really is and why he does what he does.
2. What drew you to the steampunk/romance genre?
FG: I've always been drawn to the romance of the idea of technology ahead of its time. I remember being in Disney World as a kid and hearing/seeing references to Jules Verne and HG Wells and how they dreamed worlds ahead of their times technologically, and those images stayed with me. I guess when you think about it, Disney himself did the same thing and has always been a HUGE influence on me (thanks EPCOT Center!)Add that to the fact that my favorite book of all time is Jane Eyre, and I wondered for a long time what would happen if you took what was essentially a love story and embellished it with Steampunk elements.
I had absolutely no idea how to do it though, most of my ideas just fell flat before they took on any life at all. So the thought brewed for a year or two before I ended up doing anything with it. I've always been a hopeless (hopeful?!) romantic at heart, so basically any good love story has the potential to stay with me. But I wanted to attempt to write a love story that wouldn't be outdated two, five, ten years from now, and hopefully this hybrid of both genres has allowed me to do that. I hope it will stand the test of time.
3. What was the inspiration behind this novel?
FG: I won't bore everyone with the details but basically, I had fifteen surgeries between 2009 and 2011, most of them in 2010, and the actual idea for Godspeed came to me one night when I was awakened abruptly when my pain medication wore off.I was trying to focus on anything I could to stay in the moment– to keep from passing out from the pain so I could get some help and some more medicine since I was in the room alone– and I became aware of the sound of two things: the racing of my heart, and the ticking of my favorite clock on the opposite wall. It has three faces, and they were all ticking so loud and in perfect unison and the line "What is a heart if not the ultimate clockwork?" came to me.
I grabbed the notebook where we had been keeping track of my medication doses and scribbled that down along with a couple other ideas then I somehow fell back to sleep. The original idea was much darker than Godspeed turned out to be, but in the end it turned out to be exactly the story it needed to be.
Add to that the fact my doctors told me that my body has set them back "A hundred and fifty years" as far as what they can do to help my eyesight, and it just led me back again to the idea of a story of a doctor trying to work beyond the limits of existing technology. Put all that together, and you get Quinn Godspeed.
4. One of the reasons why I, and others, loved your book is that you make it seem entirely plausible that there was a London doctor performing these types of experiments in Victorian England. Did you do any research into medical practices of that time?
FG: First of all thank you, you are so very kind. One of the reasons that I set the book in a fictional city, Fairever, (though most certainly it was most closely modeled off of London of the late 1800s) was because I wanted to have room to create whatever I needed to create to serve the story and the characters but still make it believable. Believability is VERY important to me– there is only so much suspension of belief you can expect from a reader before they have what Crow T. Robot from Mystery Science Theater 3000 would refer to as an "I call no way" moment, and can't invest in the characters. If they can't invest in the characters then they won't care what happens to them and won't finish the book.The beauty of Steampunk influenced writing is that it gives you that freedom of invention but how fantastical those inventions are varies from author to author. But yes, I did research the medical devices of the day. Stethoscopes especially, for example, since one figured in so prominently into the story, and of all things believe it or not, I did a lot of research on typewriters! I don't want to give any more away than that or it'll count as a spoiler.
I focused mostly on the characters and telling the story from a patient's perspective in order to keep it believable but still allow for the Doctor's innovations. I didn't want to get too bogged down in the mechanical; that is where the literary aspect of the book comes in, it is more character than technology driven.
5. Many writers take material from their own life and use it as a foundation for their creativity. Is there any part of the story that represents a part of you more than any other?
FG: Oh, that's a difficult question. It's not a memoir, but I certainly have plenty of experience to draw on for writing about different types of pain, and of course I had my own issues with my eyesight which gave me perspective as to how to write the character Marielle. I think though in the end the greatest issue I related to is one of belonging; everyone wants to be loved and feel they belong, and my search for those things in life likely bled through onto the pages to a degree, no doubt.
6. What inspired you to write? How long have you been writing?
FG: I was making up stories about my toys before I could hold a pen, my imagination was always working that way, toward creating amazing adventures for them. I remember my first actual creative writing experience as being an extra credit assignment I was given in the fourth grade, to watch clips of fairy tales on the projector at the library then rewrite the endings. I was hooked then, and I kept writing, in one form or another, ever after.
7. Are you currently working on anything new?
FG: I've had a lot of health issues since I finished Godspeed and other things going on life-wise so I haven't been working on a new novel.
I've written some short stories and flash fiction and had several poems and short pieces published this year, which has been amazing. I'd love to put together a collection of short stories and a book of poetry. As far as another novel, I am hoping to start working on something this fall when NaNoWriMo comes around (it is great motivation to write) whether I decide to publish it or not.
I'm kind of at a fork in the road with my writing at the moment, unsure if I want to focus more on the shorter pieces and poems instead of novels. While I've been mulling it over I've been doing a lot of painting, which I also love to do. I think by the end of the year I'll have a much clearer picture of where I'm headed as a writer.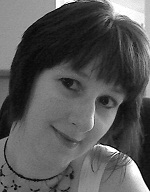 February Grace is a writer, artist and poet who lives somewhere that is much colder than she would like most of the time. She sings on key, plays by ear, and is more than mildly obsessed with colors, clocks, the Perseids, and science fiction.
She's done a few more or less interesting things in her life, not the least of which include working for Disney, getting kissed by a Klingon (it was unprovoked) and going blind, though she wouldn't personally recommend the latter. She would however highly recommend the doctors who helped partially restore her sight after a long series of surgeries between 2009 and 2011.
Her poetry, prose, and/or flash fiction have appeared in The Rusty Nail Literary Magazine, Vine Leaves Literary Journal, and Rose & Thorn Journal. Her work can also be found in the recently released anthology Poetry Pact Volume 1.
GODSPEED is her debut novel, and a labor of love she refers to as "Literary romance with steampunk embellishments."
You can pick up Godspeed at [amazon-product text="Amazon" type="text"]B007Z3QZDG[/amazon-product] and Barnes & Noble and add it your Goodreads now!