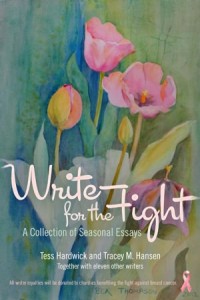 Statistics on breast cancer can be very scary, especially when you hear that every woman has a 12% chance of developing invasive breast cancer sometime in her life. Breast cancer affects us all. It takes away our mothers, our daughters, our sisters, friends and even ourselves. When I heard that authors Tess Hardwick and Tracey Hansen joined together to work on an anthology celebrating life with the determination to donate all author proceeds to a breast cancer organization I immediately became interested.
Paralleling our lives to the four seasons, Tess and Tracey brought together eleven other authors for Write for the Fight and asked them four questions:
Spring: What do you miss about being 5 years old?
Summer: What would you tell your 20 year old self?
Fall: What, at this point in your life, do you want, wish, and dream of for your life going forward?
Winter: What would you want said about you on your 80th birthday?
It is a fascinating concept and I feel that the authors chosen to participate in this anthology of essays were excellently cast. I loved the mix of voices, experience and approaches to the questions. Some were poetic, flowery with their depictions of times gone by, others were in your face and blunt with an accurate retelling of how life really was, is and most likely will be.
What fascinated me was even though there were over a dozen different voices their memories and hopes for the future were all very similar. It's almost as if we have a global memory of what it's like to be five years old, the wonder, the innocence, the need to take everything in right then and there. It's a shame we lose that.
I have to pull attention to author Terry Persun's Summer essay because he was the only one that instead of approaching his 20 year old self with words of wisdom and insight he wrote of the hope of regaining some of that recklessness and gusto that his younger self was full of. It was a different take on the question and it helped break up the section and made me realize that not everything about being 20 was that bad.
I think if I were to reread the anthology, which is most likely to happen, I think I would pick an author and follow that's author's voice throughout each section then go on to read another's views. When I read it for this review I did it start to finish and after reading 13 essays in a row about one topic it got a bit redundant. However, that was my fault, not the anthology's.
The truth is once I read one's perspective I needed to know what the next author thought. The flow and blend of their voices gave way to a rhythm that I found quite comfortable and readable. A humorous, light hearted essay would follow one more subtle and insightful but one never detracted from the other. There were many times I felt as if I was just hanging out with old friends, sharing with them, laughing with them.
I found myself longing for the age of innocence with them, cringing at the mistakes and insecurities of my early twenties. With my new friends I started to hope for a brighter, stronger and more independent future and I crossed my fingers that not only do I make it 80 but I have loved ones willing to throw one hell of a bash for me. This book makes you think and that's not always the easiest thing to do, especially when the topic you're thinking about is your life.
We only get one round on this merry-go-round and it's sad to think of the chances lost and the worries about tomorrow's problems. However, this book isn't for regrets, it's for remembering, learning, growing and living. This book is also about taking care of each other. Ladies, don't wait for that magical 40th birthday if you're not there yet; do your self-exams. Really, it's not that hard to check yourself out. Husbands, brothers and sons take care of your women. Insist they get their mammograms, that they go to their annual appointments. And everyone buy this book and help support breast cancer research. It is currently available on the Nook and will be available in print and other booksellers beginning April 5th.
 Contributing Writers for Write for the Fight:
F. Jo Bruce
Laura Tiberio
Tracey M. Hansen grew up in the wilds of Cape Coral, FL where she still unwillingly resides today.  She lives with a dime piece she calls 'ManPal' and three very feisty fur-kids. With her best of friends scattered around the globe, Tracey spends her time in a dark corner in fetal position, sucking her thumb and crying while listening to Enya.  Her campaign, 'A bottle a day keeps the…who the fuck cares', is catching on like wildfire in the alcoholic writing community.  She is afraid of flying, the dark, bees and Rosie O'Donnell…not necessarily in that order. Her goals are to have a restraining order filed against her by a celebrity and world peace…in that order. Tracey went to Catholic School which explains so much.  Her constant caffeine high allows her to write without thinking of the repercussions, so she has a tendency to offend people.  Luckily, she doesn't give a shit.
She has two books coming out in 2012, NOT A PERFECT MOM and WRITE FOR THE FIGHT, both brought to you courtesy of Booktrope Publishing. Her first novel titled, WHY THE FUCK DOES WRITING THIS THING TAKE SO LONG, is due out when she stops procrastinating summer 2075.
You can stalk Tracey at her website, Twitter, and Facebook.
Tess Hardwick is a novelist, blogger and playwright. She has a BFA in Drama from the University of Southern California. Like her main character in Riversong, Tess is from a small town in southern Oregon. She currently lives in Snoqualmie, Washington with her husband, two small daughters and a teenage stepson. She is inspired daily by the view of the Cascade Mountains from her home office window.Tess is busy writing frequent posts for her blog "Inspiration For Ordinary Life" on her website and is finishing up last rewrites on her second novel, an historical fiction set in 1930's Alabama, inspired by a short story written by her great-grandmother. Find her novel at [amazon-product text="Amazon" type="text"]B004WDRYVE[/amazon-product] and Barnes & Noble.