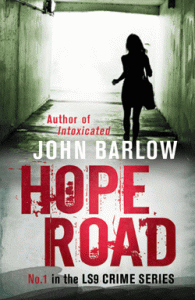 In [amazon-product text="Hope Road" type="text"]B006LWJ75K[/amazon-product], the first mystery in a series of nine books, John Barlow introduces us to John Ray, a son of a notorious criminal, who uses his father's past to save his friend's future.
John Ray is the white sheep of the family, his father, Tony Ray, a used car dealer, was part of a large counterfeiting ring that left the cops itching for a conviction that never came.  Instead of following in his father's footsteps like his brother did, John stepped away from the family business; he excelled in school and was determined to live his life straight. After returning to home to take over the family's used car dealership, and run it legitimately, his coworker and friend is accused of murdering a prostitute. As if things couldn't get any worse, the dead girl was found in the boot of a car John just bought for the dealership casting doubt on his clean way of living. Stuck between a rock and a hard place John turns to the life and people he left behind in order to find the truth.
John Barlow's writing is sharp and intelligent as it takes his readers through a complex, multi-layered story.  While characters hold stereotypical traits, such as gruff, no-nonsense and cocky cops, their personalities are seasoned with little nuances that make them unique yet relatable. I loved the character of John Ray. He lives just outside the shady criminal world yet when he's forced to mingle among the old gang he falls quickly back in step. You can tell he's an intelligent man with a good head on his shoulders yet there is something about him that makes you want to keep a close eye on him.
The pacing and flow of the story is well matched with the intricate details that go along with a plot of murder mystery. Character interactions, the settings, major and secondary plot points are all used together to create a well focused story with no added filler to confuse the plot. Barlow's infusion of twists along the way keeps the reader guessing as to not only who the murderer is but how everyone fits into the story.
Hope Road encompasses all the themes pertinent to a murder mystery: betrayal, greed, love, lust, and even the Shakespearean notion of sins of the father are to be laid upon the children.   I highly recommend this book for anyone interested in an intelligent, smooth read that keeps you guessing until the end.