Good evening, all!
We ended our stay in Dublin getting to know the seedier side of the city. This afternoon we toured St. Michan's crypts where we came face to face with mummies.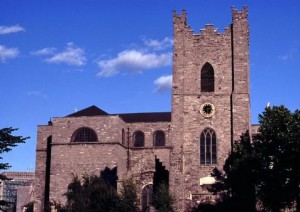 Originally founded in 1095, the current building was built in 1685 with the vaults under the church giving final resting places to prominent families of the 17th, 18th and 19th centuries.
I was very excited of the idea of walking in the crypts but I didn't know what to expect. I had no idea when we walked down the steep, stoned steps that the tour guide would remove the gate in one of the doorways and tell me to go in. Oddly enough, there was no hesitation on my part, Eric, on the other hand, needed some "assistance" in the form of good old fashioned ribbing, thanks in part to a jovial tour guide. 😉
There were four open coffins. The first three contained a thief, who was missing his right hand (he was also missing his feet, but that's because he was too tall for the coffin), a nun, whose finger and toenails were still in tact as well as, the white whimple (garment that covers the nuns neck) around her neck, another man, who sadly doesn't have a story, just that they know he's a man. 😉
The fourth mummy was laid against the back way and he's lovingly referred to as "the Crusader" even though he didn't live to see the Crusades. His legs were cut off to fit into the coffin, but they put they legs in with him to keep him whole. Wasn't that nice?
This is the time the tour guide told me to touch his right hand for luck. I thought he was nuts.
"Look, you got me to walk into a crypt with open mummies and now you want me to touch the thing?"
But I did. Now I'm lucky. Woo. I even got Eric to touch it. Now we play the lottery and wait.
There were other crypts that we could peer into but not enter. Darn. Many of them have coffins that have fallen over causing the bones to stick out at odd angles. Walking back down the corridor the tour guide points down into a crypt and says "Oh, look! A foot!" Lovely.
Several of the doorways to the vaults just had random skulls laying in them. We were informed that since these are family crypts, family members can still rest with their relatives eternally if they wish. Of course, it would have to be in ash form since most are already full.
Click on this sentence to see the picture of the mummies whose crypt we could walk into…
****
Tonight we took a tour to get to know Dublin's darker side with the Dublin Sighseeing Tour Bus.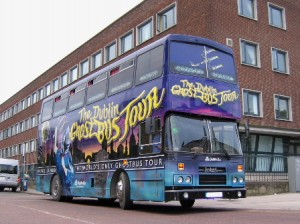 Our first stop was the Royal College of Physicians of Ireland to learn about Dr. Samuel Clossey who taught the students the "art" of dissecting a human cadaver, and by art I mean taking a really big knife and cutting the line up the body. Once that was done he'd take his bare hands and rip open the chest cavity, pulling entrails and all out with his hands and dumping them in a bucket. It seems Dr. Clossey had a problem with God and organized religion and needed to prove that we are only what we are by going through this routine with his students. He died in his 50's shortly after going through one of his routines. An insomniac who would walk the halls at night, he can still be heard singing songs to occupy his dark, lonely and never-ending nights.
I would love to tell you about all the stories we heard by a very talented and enthralling tour guide, however, this post is going to run long so as it is. If it weren't I'd tell you the story of  St. Kevin's Churchwere most people don't even realize that it is a church, or that their picnic lunch is resting on top of forgotten graves. The story of St. Kevin is amazing and I encourage you to look him up.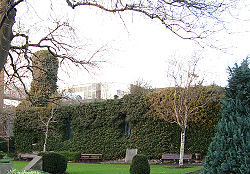 Over the course of the tour we learned where the expressions, "Saved by the bell", "Dead ringer", "graveyard shift", and "fell off the wagon" came from. The first three had to do with the disease of catalepsy and being buried alive. I heard this story before so I kinda checked out during this portion. But simply put, catalepsy makes a person appear to be dead although they're not, kinda like in a comatose state. For fear of this happening, people asked to be buried with a string tied to their thumb. This string was then pulled up through the coffin and the ground and tied to bell. If you rang the bell, a man whose job was to sit and watch the bell (ie "graveyard shift") would dig you up and save you. From then on you were known as a "dead ringer" and the expression caught on as meaning having the look of someone else, in this case, someone who was presumed dead. Little did they know at that time was it was quite possible that the dead ringer was the actual person!
"Fell off the wagon" refers to the guards that would take prisoners to their hangings. Apparently there is a legend in Dublin that if you are on your way to your execution and you pass a bar, you are entitled to have a drink. Well, in Dublin, there are a lot of bars. (Surprising, right?!) The guards weren't supposed to drink, but if someone offered you a drink, would you turn it down? Didn't think so. Neither did the guards, sometimes they had too much and they… you guessed it, "fell off the wagon." They drank when they weren't supposed to. There you go.
The last stop was the most intriguing to me. Hell.
St. Audoen's church is the oldest, existing and still used medieval church and is located on the north side of High Street. The church is dedicated to Normandy's patron saint Ouen, the 7th-century bishop of Rouen, or St. Audeon. Oeun died in Rouen in 684 but a church was built in Dublin in his honor in 1181-1212.
Just on the outside of the city walls, this place was known well to criminals and degenerates. Criminals overtook the church's crypt and used it for gambling, whoring and killing. The infamous 40 steps that run along one side of the church were where many people lost their lives. If you weren't supposed to be there, you were killed; it was not wise to go there alone.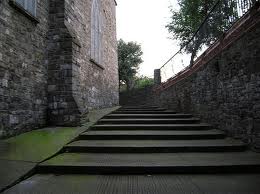 *Looking at these steps, the "gateway to hell" would be right behind you.
At the bottom of the steps was an entrance to Hell. Down a tunnel that led to the crypts, criminals laid their plans of destruction and mayhem. Many times if you walked in, you didn't walk out. Darky Kelly, a madam in the 18th century, ran her brothel down there. It is said that when she didn't give up the whereabouts of her baby she was tried as a witch and killed. She was hung from gallows above a gate near the gateway to Hell. The intention was not to kill her, so after they "dropped her" they cut her down, her body falling to the steps below. They picked her up, tied her to the fence and burned her as a witch. Her ghost can be seen walking between two doorways, the gateway to Hell and a doorway where "Hell ladies" would leave their abandoned babies to a building by the church that served as housing quarters.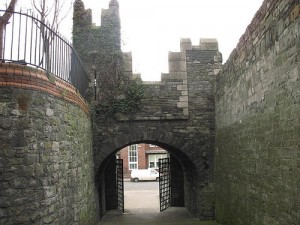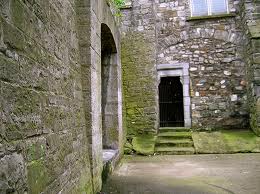 *Looking at the Gate picture: If you were to turn right you would see the entrance to the tunnel, or the Gateway to Hell. The door where the women left their babies is directly behind you.
**Looking at the two doorways: If you were standing closer to the doorways and look to your right, you would be looking up the 40 steps shown in an earlier picture.
Well, tonight we say to goodbye to Dublin, well, until our last night when we return here. Tomorrow we leave for Cork and hope to stop and visit Cashel Rock and Glendalough, particularly the abandoned monastery.  Until then, night!!