Saturday, March 3rd, 2012
"So, what'll it take to motivate you? Should I take away tv time," my husband asked with a sly smirk on his face.
I slid my foot into my black converse and started to tie the worn out laces. "Noooo, dad. I have no idea what'll it take to get me writing again. Every time I set goals or a schedule I never follow through so what's the point?" I straightened my legs out in front of me and studied my old black chucks.
"What do you think, babe, should my next pair be pink or purple? I'm thinking I need some color in my life."
"We could set up a shoe budget and every week you reach your goal we can put money into it."
My eyes shifted to the man sitting on the floor trying to put shoes on a wiggly two year old. I was afraid to make any sudden movements. Does he know what he just said? Is he really serious? Oh my God, think of all the shoes! Not soon after all those thoughts raced through my mind his eyes met mine.
"Ah, I see we have found your carrot."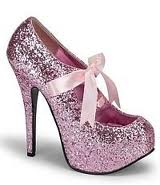 "My carrot? I thought we were talking shoes?"
"We are. You know the motivational theory about the carrot and the stick…"
I had no idea what he was talking about and I have to admit, I was still thinking about shoes, sparkly, sexy shoes. Before I knew it his fingers were snapping in front of me.
"Karen! Stay with me, Karen. Look, there are two ways to get a horse to move, punishment or reward. You either swat it on the butt with a stick to get it move faster or you dangle a carrot in front of it to get it move forward. You obviously respond to the reward motivation. Get it?"
I stood up and adjusted my shirt. "I sure do. If I write I get shoes."
He smiled at me like a proud teacher and zipped up his jacket. I returned the smile and turned to leave before adding, "And you just called me a horse, but if you tell me more about the stick theory I'll forget about it." 😉