Monday, January 30th, 2012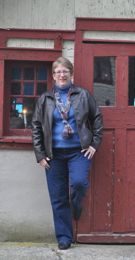 Good day and happy Monday, friends! Today I'm shining the spotlight on Holly Bush author of Romancing Olive. To say that one is a romance writer is no longer enough, there's always that follow up question of, "But what kind of romance do you write?" In Holly's post she discusses the genre and the influx of sub-genres that seem to be taking over. Enjoy!
Romance Genre Challenged! Is There a Support Group?
Let me preface this by saying I don't care what anyone else reads or does in the privacy of their own bedroom or spaceship.
But the new sub-genres of romance books are downright confusing and sometimes I have to think really hard  to imagine, envision or even process the categories of cross-genres. As I was trolling the other day on a book selling site, I found an author that billed herself as LGBT Dystopian Paranormal author. Doesn't it get crowded with this many people or vampires in the same bed/coffin? Will the government be watching and take away one of the participants leaving . . .  uh . . .  I'm not sure who we started with or who they had an affinity for.
One part of me just wants to tell folks, hey, read the jacket blurb and see if you'd think you'd like the story. Don't be hemmed in by search sorting on the internet. On the other hand, there are just so many books out there, especially with the boom in the self publishing world that a poor reader needs to narrow down the 20 gazillion books to ones they might be interested in. So authors try and help the reader along by identifying their book in a variety of searchable categories.  (more…)