Hello all! It's after four pm here and we're about to head for dinner in about an hour so I wanted to give a quick update on our day.
We started the day tracking down a piece of the original city wall of Dublin. It's the only piece left standing outside although there are some remnants of walls in people's and business' basements. We have a picture of me in front of the wall so you could get an idea of it's height, but we didn't take it on my camera and someone, who shall remain nameless, forgot to bring cables to take pictures off of his camera. *ahem* 😉
Anyway, here is a shot of the wall for all you history buffs out there: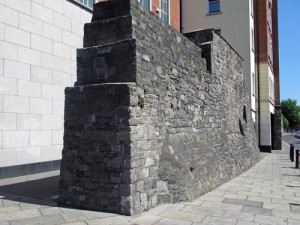 After we tracked that down the wall we ventured down towards the Guinness Brewery, yes, again and no we didn't take the tour. (Although the thought did cross my mind) 😉 We took some pictures of Andrew Guinness's house located right next to the brewery and the actual St. Jame's Gate.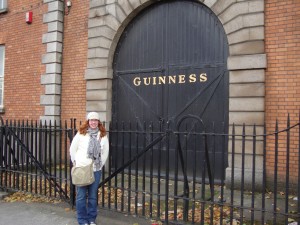 By this time of the morning my toes were about to fall off so we hopped onto the tour bus and made our way to Kilmainham Gaol. This jail was heartbreaking to walk through. Created in the hopes of reforming the open concept jails and to bring solitary confinement to the inmates the jail lost its path when overcrowding due to transportation and the famine occurred. Kilmainham was used as a transportation spot for inmates awaiting their one way ticket to Australia. Other uses of the jail were used to house children who stole bread to survive during the famine. Honestly? Rapists, murderers, thieves and whatever else, I can see, but starving children? However, the joke was on the prison, at least in jail the children got three square meals and a roof over their heads. Unfortunately, that roof wasn't the cosiest. Those cells that were meant for 1 person ended up housing up to 5. Many prisoners, including the children, were forced to sleep in the hallways under the open windows with the limestone walls around them condensing with evening chill.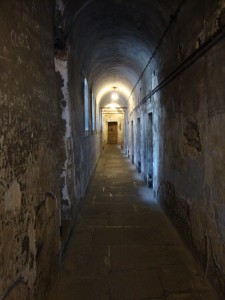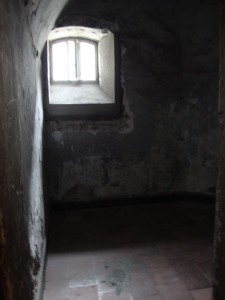 The jail was also in operation during a very uneasy time during Dublin's history and housed many of political prisoners. In fact, with the exception of two, this jail housed every significant Irish nationalist leader of both sides of their Civil War.
Our tour guide took us to the Stonebreaker's Yard where 13 men from the 1916 uprising were executed. One of whom's dying wish was to marry his sweetheart, Grace Gifford. The ceremony took place by candlelight and was witnessed by the priest and the guard. Joseph Plunkett and Grace could only exchange vows, nothing else. Later that night, Grace was allowed back in to say goodbye to her husband; after those 10 minutes were up she never saw him again.
After all the depressing information from the gaol, I needed a drink. We made our way down to the old Jameson Distillery. Now housed in Midleton, County Cork, the old distillery is now a museum and bar. Bar? Sounded good to me!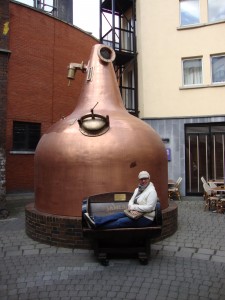 Well, my tummy is rumbling so its time to leave for dinner. When I get back tonight I'll post about the creepier side of Dublin starting with crypts of St. Michan's Church (I touched a mummy!!!) and the ghost tour we're going on after dinner. Soooooo excited for that!
So until then, friends! Slainte!