Wednesday, February 8th, 2012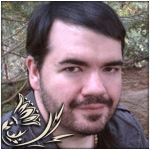 Oh happy day! Michael Shean, author of Shadow of a Dead Star
, stopped by the pub today to talk science fiction. Now if you've hung out in the pub before you know that only a few science fiction writers have made their way onto my bookshelves and Michael Shean is one of them. I love noir stories and the way he's combined the two into a gritty and captivating story just blew me away. With that said, I'm super excited to have him here to talk about the possibilities of merging human with machine. And the best part about the interview? The Balvanie Scotch Michael has introduced me to. So pull up a barstool, grab yourself your favorite drink and listen up. Oh, and if you stick around after the interview I hear Michael's buying a shots of Jaegermeister for everyone. Is this guy great or what?

KD: Where did the inspiration for Shadow of a Dead Star come from?
MS: I was in a dark place a few years back, very angry with certain aspects of the world and how it was affecting myself and other people I knew – I started having strange dreams about the future, and I came to feel very distant from people and society.  Shadow is an artifact of that alienation.
KD: Your novel, Shadow of a Dead Star and your serial, Bones Wires, both take place in a futuristic Seattle. What is it about this time period and Seattle that draws you to set your stories there? 
MS: At the time I just thought Seattle was a good place to set the story.  It can be beautiful but also very grim and dreary, and I had friends who lived there talk about the penetrating gloom that they felt after living there for a few years.  It's the paradox of the area that draws me there: I hear stories of isolation and despair, but also stories of vibrance and color.  I try to capture that, and I hope that I've done the city justice.
KD: You combined the darkness of noir with the endless possibilities of science fiction to create a bleak future full of illusions and disconnect. Is there a message hidden within your words regarding the path that we're on in respect to technology?  (more…)